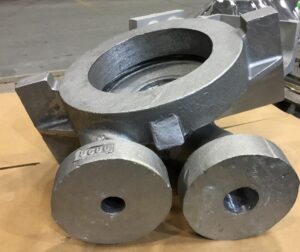 Since 1973, our expert foundrymen have been manufacturing high-integrity steel cast pumps for a variety of industries: oil and gas, mining, nuclear, military, and other commercial and industrial applications.
Whether you produce single- or double-suction pumps, centrifugals, vane- or rotary models, Effort is your first call. Our ceramic core process yields precision impeller cores that produce as-cast waterways with a C30 typical finish, improving pump efficiency by as much as 10%.
Capabilities
Effort Foundry uses a variety of alloys, including carbon and low-alloy steels, stainless steels, nickel-based alloys, cast and ductile irons, and aluminum bronzes. Effort Foundry works closely and successfully with many and varied industries, including oil and gas, the military, nuclear facilities, power generators, and other specialty industries.
Quality, Certifications, and Safety
Effort Foundry has been ISO 9000 certified for over 15 years and is a certified NIAC vendor. Effort Foundry is an approved military supplier with over 30% of our orders certified to stringent military specifications.
You are welcome to visit our Quality Policy, ISO Certificate, and Welding Procedure Index page here.
MAC 3800 certified since 2014 (Approved nuclear member)