Our 60,000 ft2 facility, located in Bath, Pennsylvania, houses each and every operation required in the casting process. It's all here—from engineering and patternmaking to production, quality, and shipping.
Over the last decade, we have added 14,000 ft2 of dedicated machining and non-destructive testing space, a new sand reclamation plant, new grinding- and burn / arc facilities, and new blasting equipment.
To our customers, this means more of the same Effort quality you've come to expect, with even faster turnaround.
Equipment
Pattern Constructing and Repairing
COMPLETELY EQUIPPED PATTERN SHOPS WITH EXPERIENCED PATTERN MAKERS TO MAKE, REPAIR AND RIG PATTERNS
PATTERN 3D PRINTER
Core Making (Phenolic Urethane No-Bake and Cryogenic Ceramic)
CONTINUOUS MIXER (TINKER OMEGA 50 lb/min multi-aggregate (zircon, chromite, olivine)
CONTINUOUS MIXER (TINKER OMEGA 50 lb/min silica sand)
NO-BAKE CORE OVEN (48"X48"X60")
CERAMIC CORE OVEN (L & L KILN) (30"X32"X48")
Molding (Phenolic Urethane No-Bake)
CONTINUOUS MIXER for application of facing sand (TOM-250) with heater
CONTINUOUS MIXER for application of backing sand (PALMER M-350) with heater
MOLDING CRANE (YALE 3 ton)
MOLD VIBRATION TABLE (TINKER OMEGA)
Melting
ELECTRIC INDUCTION FURNACES (AJAX)

1 – 2,500 lb.
1 – 2,000 lb.
1 – 1,500 lb.
1 – 800 lb.

SPAL® Argon shielding process applied to all melts
Sand Reclamation
SAND HANDLING SYSTEM (TINKER-OMEGA) WITH COOLER-CLASSIFIER
THERMAL RECLAIMER (CASTEC ¾ ton / hr.)
Blasting
TUMBLE BLAST (WHEELABRATOR) (14 cu. ft.)
TUMBLE BLAST (WHEELABRATOR) (3 cu. ft.)
TABLE BLAST (PANGBORN) (6 ft. diam.)
SAND BLAST (TRINCO) (48"X48"X30")
TABLE BLAST (WHEELABRATOR) (14 cu. ft.)
10′ x 10′ WALK-IN SAND BLAST ROOM
Arc-Air / Cutting / Welding
BOOTHS (4)
MILLER AIR-ARC WELDERS (3) (1,500 amp)
MILLER AIR-ARC WELDER with MIG capability (DIM 652)
MILLER AIR-ARC WELDER with both STICK and TIG capabilities (SYNCROWAVE 250 DX)
VARIABLE SPEED AIR COMPRESSOR (CURTIS 125 hp)
30,000 CFM DUST COLLECTOR FOR ARC-AIR BOOTHS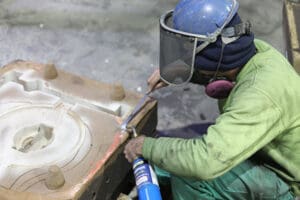 Burning
BOOTH with Oxy-acetylene twin torch setup
Grinding
DOWNDRAFT GRINDING BOOTHS (6) self-contained and fully-equipped
STAND GRINDER (FOX) (30" diam.)
BOX FURNACE (56"X92"X42") with computer control and charting capabilities
BOX FURNACE (16"X16"X16") with computer control
BOX FURNACE (30"X19"X18") with computer control
PRE-HEAT UNIT (5'X5'X5') with digital controller
QUENCH TANK (47"X120"X24")
Quality Assurance (SNT-TC-1A Level II & III Inspectors)
BENDIX PORTAGE D60 AXIS COORDINATE LAYOUT MACHINE w/6′ x 8′ TABLE
MAGNETIC PARTICLE INSPECTION UNIT (MAGNAFLUX 4,000 amp, wet fluorescent)
NIAC APPROVED AUDIT
ULTRASONIC THICKNESS GAUGE (KRAUTKRAMER-BRANSON)
ULTRASONIC INSPECTION UNIT (MASTERSCAN SONATEST 330 DIGITAL)
VIDEOSCOPE (OLYMPUS)
PORTABLE HARDNESS TESTER (GE DYNAPOCKET)
LIQUID PENETRANT INSPECTION (water-washable, visible contrast)
COORDINATE MEASUREMENT MACHINE (BENDIX Portage Model D60)
LAYOUT TABLE (Portage Model 60A)
FULL WAVE DC OUTPUT INSPECTION UNIT (MAGNAFLUX CSV-10 10,000 amp)
POSITIVE MATERIAL IDENTIFICATION (PMI) (THERMO SCIENTIFIC NITON XRF Analyzer)
FAROARM WITH DIMENSIONAL AND SCANNING CAPABILITIES
Laboratory
OPTICAL EMISSION VACUUM SPECTROMETER (BAIRD DV4)
NITROGEN DETERMINATOR (LECO TN-114 w/computer readout)
TENSILE TESTER (TINIUS OLSEN Super "L" 60,000 lb. w/computer readout)
FERRITE DETERMINATOR (FISCHER SCIENTIFIC FERITSCOPE)
NITROGEN/OXYGEN DETERMINATOR (LECO TC-136)
Machine Shop
HANSFORD DAVIS MODEL 15 KEYSEATER/ 1/16" TO 1-1/2" WIDE INTERNAL AND
EXTERNAL KEYWAY CUTTER
FRYER SYSTEMS WITH SIEMENS CONTROL

MC-10 3-AXIS VERTICAL MILLING CENTER
HR-40 5-AXIS HORIZONTAL MILLING CENTER
VT-40 3-AXIS VERTICAL TURNING CENTER WITH LIVE TOOLING FOR MILLING
ET-40 3-AXIS HORIZONTALL TURNING CENTER WITH LIVE TOOLING FOR MILLING

MONARCH TOOL ROOM LATHE
FARO EDGE 9-FOOT, 7-AXIS MEASURING ARM WITH HD LASER SCANNER