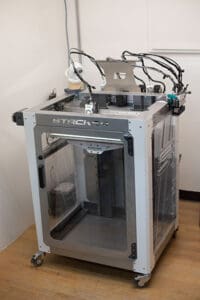 For decades, Effort Foundry has endeavoured to keep up with the latest technology and best practices to offer our clients the fastest turnaround rates and lowest production costs. 3D printing technology is well-established in the iron and metal casting field and is used wherever it is beneficial. While these applications primarily lie in the area of prototypes and small batches, the limits are increasingly shifting toward bigger and bigger volumes, as the performance of the 3D printing systems continues to improve.
In terms of overall costs, 3D printing is always the more economical alternative to conventional casting up to a certain batch size, since tool costs are eliminated. With complex geometries in particular, 3D printing is the most economical choice, even in batch sizes of several hundred units.
Effort Foundry is proud to use the latest 3D printing technology to reduce costs and continue our on-time delivery record.
Effort Foundry works closely and successfully with many and varied industries, including oil and gas, the military, nuclear facilities, power generators, and other specialty industries.
You are welcome to visit our Quality Policy, ISO Certificate, and Welding Procedure Index page here.